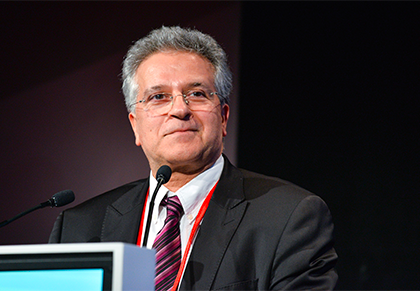 « We succeeded the challenge of creating a digital congress. There will be a before and an after the 2021 edition! »
A the beginning of each year, the 3-day "Journées Européennes" (JE) congress organised by the French society of cardiology gathers the worldwide community of French-speaking cardiologists. The 2020 edition could well have never taken place, as was the case for many other annual events. However, in January 2021 their unique 100% digital congress gathered 6,200 participants. It happened thanks to the great teamwork of SFC and Europa Organisation, to a keen sense of anticipation, and to an incredible amount of hard work over a limited period of time. The virtual gathering met with huge success and marked a strategic turning point for the Society's congress division: the JE will never be the same again!
Ariel Cohen, the SFC President, tells us about this remarkable experience, shares the secrets of a successful digital event, and reveals how he imagines the future.
When COVID-19 broke out, how long did it take you to realise that your in-person congress due to take place 10 months later was not going to prove feasible?
As we were confronted by the outbreak in our establishments in March 2020, it wasn't long before we started wondering whether the in-person edition we were already working on for January 2021 was going to be viable. While continuing to hope that it would, we quickly decided to simultaneously develop a hybrid option that could replace the in-person event if need be. It was a back-up strategy, to prepare for all eventualities. However, as the epidemic progressed, we realised in May that we were definitely not going to be able to meet up face-to-face. As healthcare professionals on the front line, we were aware in June 2020 that a gathering would not be possible. Epidemic models were already announcing a second and third wave, so we decided to change our strategy and develop a 100% digital congress.
What was your experience of this type of format?
None! We were heading for the unknown! We realised we were going to have to totally reinvent the programme, while sorting out the cancellation of the in-person event. Like many, we had absolutely no experience with this type of situation, and I must admit that we had serious doubts about what we were going to be able to achieve!
What strategic choices did you have to make in adapting to a digital event?
We decided to shorten the length of sessions to 45 minutes or a maximum of one hour. We established the programme in July, finalised it in September, and then reflected on the best way for it to be broadcast. Along with Europa, we defined a concept of 3 broadcasting channels with different formats for our participants to choose among: a channel with real-time moderation of pre-recorded LIVE sessions; a second channel with pre-recorded moderated sessions; and a third channel offering pre-recorded sessions without moderation.
What was Europa's role at that time? What kind of support did you need?
A major part of the work involved negotiating cancellation policies for the physical event with the various partners and providers, as well as the invited guests, whether they were being invited to the digital event or not. It was a difficult time, but we favoured quality communication and the SFC congress division was mindful to reassuring our industry partners and obtaining their support for the new adventure. Europa helped us in strategic negotiations with the service providers; our close partnership allowed us to get through it all very effectively, side by side.
And then you started recording?
Yes, and this phase was very intense! We created a joint steering group in which the SFC congress division and the Europa project managers gathered with a reduced organising committee. The weekly meetings took place on Zoom, under the supervision of our Scientific Secretary, Hélène Eltchaninoff. We worked for almost 3 months according to an extremely tight schedule, in order to avoid delays and meet the deadlines. In parallel, we also had to work on the virtual platform.
Which platform did you choose?
We used the one recommended by Europa, 6connex, which had been successfully implemented for the EuroPCR congress in May (an international course on interventional cardiology). We personalised and enhanced it to suit our needs and I must say that it was a great success. The result was amazing. We put a lot of effort into the e-stands, and developed a dedicated channel to screen 300 pre-recorded 3-minute presentations of e-abstracts. An innovative space called the 'Espace Simulation' was also created, where most of the invasive and non-invasive procedures could be taught, using mannequins. We also designed a space called 'Coeur de métier', directed at young cardiologists.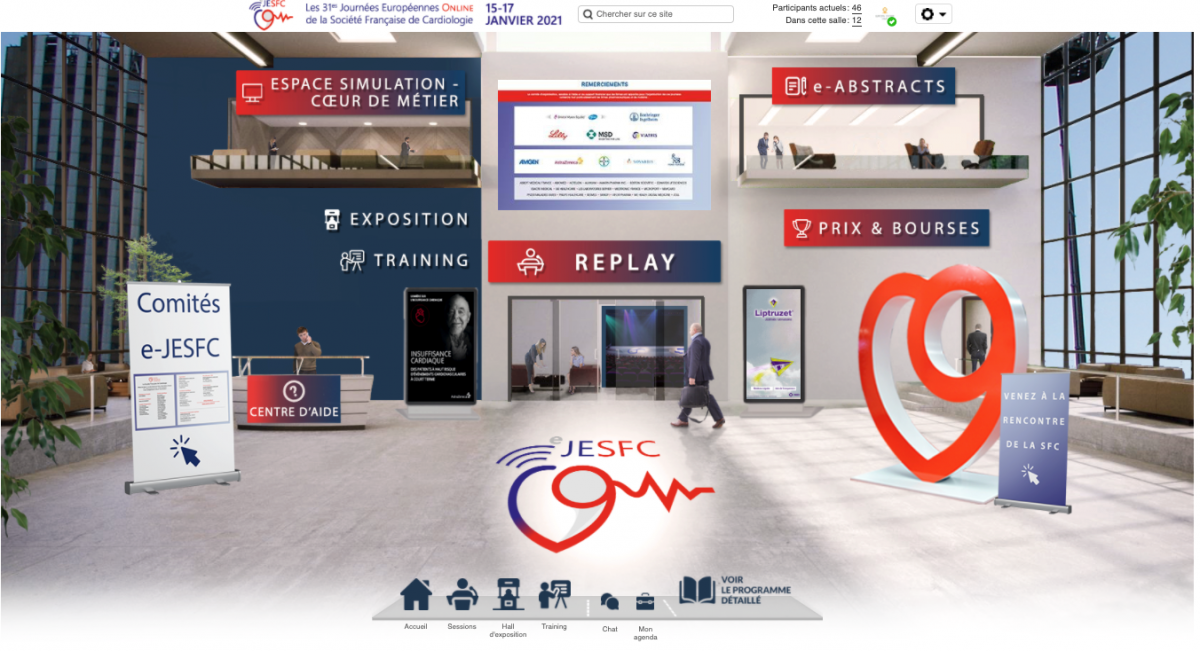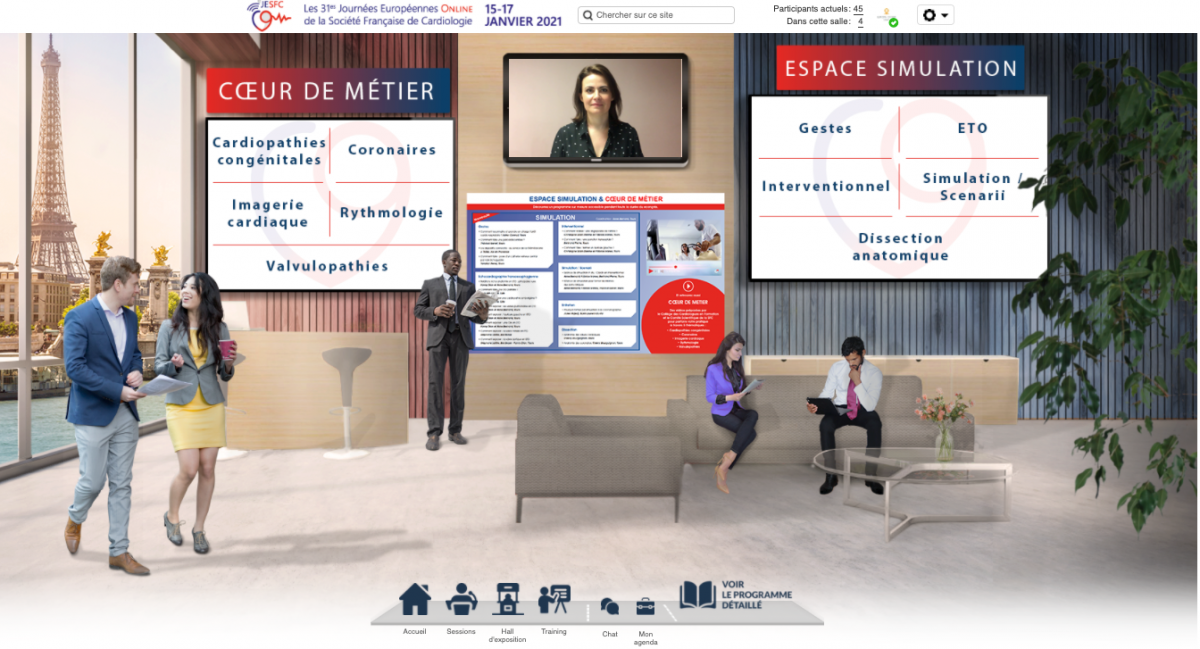 How did it go during the event?
We were ready, but we had absolutely no idea what to expect! First of all we were astonished at the number of participants who were signing up, not far from the usual figure (6,800), then the numbers started to drop and we were really unsettled. 200 to 300 people connected to each session, with an average connection time on the Saturday of 7 hours per participant! The level of activity on the chat was very high indeed. We allocated an expert chatmaster to interact with the participants of each virtual session room, which was immensely appreciated. At the end of the event, we were fully reassured by the statistics: between 13,000 and 34,000 unique content views, which is exceptional, and a record-breaking 5,300 visitors on the e-stands.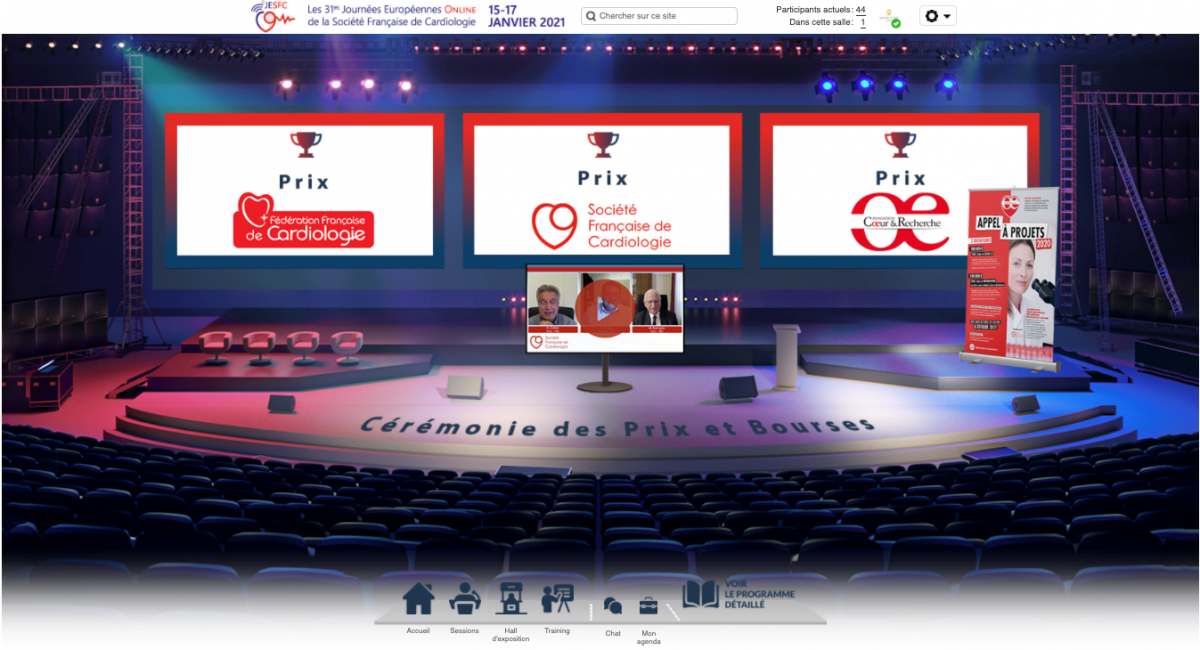 Did cardio-online, your online platform, play a role in the success?
Yes indeed. We're fortunate to have a rich and dynamic community platform that really took off last year, and which we included in the digital congress strategy. Europa posted all content on cardio-online immediately after its broadcast, for a period of one month. On each day of the congress we also broadcast a 30-minute news flash, during which experts from SFC and members of the community discussed the JE's latest news. It attracted up to 500 live connections and over 1,000 on YouTube. Another success!
What are your projects for the 2022 edition?
Given the results, we know there's going to be a before and an after JE-SFC 2021. Our cardiologists were really satisfied with the short session format, allowing us to promote longer lengths of time for enriching discussions. It has changed our way of drawing up a programme. Also, as we cannot guarantee that we shall be able to get together in person in January 2022, we have decided to build an in-person programme comprising short sessions, and to adjoin one day of learning on a virtual platform.
It's a way of associating the best of both formats?
Absolutely. Everybody obviously wants to get back to an in-person congress, because nothing will ever equal face-to-face interaction. In this way, if we can't gather in the same place next January, it will be easy to transpose the programme to a digital format, as we'll be more equipped. Also, the 100% digital day that we are adding will foster greater outreach, catering for an audience that may or may not have been able to join the first two days in Paris.
Is this programme different to others?
Without a doubt! This time we are innovating by offering interdisciplinary sessions, gathering experts from different backgrounds to discuss common issues.
What will you take away from this adventure?
We were able to successfully meet the challenge thanks to our sense of anticipation, our workforce, and our close and solid partnership with Europa. It's encouraged us to continue in the same way, along the digital road, because we think that congress formats will continue to evolve and become a great combination of in-person and virtual events. Both have distinct advantages for all those involved. We could imagine for example small digital meetings throughout the year, which would enable us to exchange and share knowledge more frequently.
To sum up, what would you say are the secrets to success for a digital congress?
I'd say there are six:
First of all, the programme format needs to suit a digital event. For example the short presentation and long discussion times we opted for. It's important to select effective speakers and moderators, who know how to be concise.
Logistical aspects are of great importance. You should aim to restore all the essence of a physical presentation in a recorded one. A lot of work should be put into preparing legible educational tools, and it's essential to help the speakers adapt to this new way of teaching.
The quality of the recording studio's technical equipment is also crucial. It's a real advantage to be able to use two or three studios simultaneously.
You must also adapt your way of collaborating with industry partners, offering them e-stands that suit their communication objectives, and providing opportunities for extended periods of exchange with the participants.
It's essential to share content after the congress. Cardio-online was a strategic channel for amplifying our event far beyond the three days.
Lastly, good quality support from a PCO is essential for a Scientific Society. Not only to coordinate the programme, but also to negotiate with partners or valorise the event in ways such as the choice of technical equipment or communication strategy. All of these aspects should be built side by side to ensure the success of an event.
I would like to insist on the fact that if we attained such a great result, it's thanks to a collaborative construction process with Europa Organisation, at each and every step of the project. In short, it was a great adventure that allowed us to overcome unprecedented difficulties.