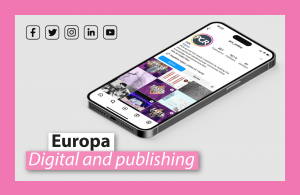 Europa Organisation
11 Aug 2023
Within our Europa Digital and Publishing branch, the Digital Solutions team:
- Promotes medical congresses, as well as academic journals and books on social networks,
- Illustrates content with unique graphic creations,
- And distributes them via targeted email campaigns!
Sharing scientific content, information on upcoming events, and news related to the various specialties, all this represents an average of 600 posts per month on the networks.
All in all, we're talking about 59 accounts and 14 online medical communities animated throughout the year, with a reach of 6.2 million users in the first half of 2023!
By offering direct, human contact, our teams interact with healthcare professionals and nurture their interest in research and medical practice.