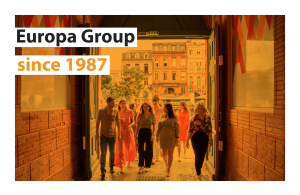 Europa Group
19 Sep 2023
Europa Group is the fruit of an entrepreneurial passion born in Toulouse, a city of innovation.
Founded in 1986 by Florence and Marc Doncieux, then law students, their entrepreneurial journey began with the creation of the EGEE Toulouse Association. It was the success of the European Space Weekend, attended by over 400 students, that sparked their desire to go further. They launched their company, and soon specialized in medical congresses.
Since then, Europa Group has gone from strength to strength: today, we are the French leader in medical training and information.
Still anchored in Toulouse, our head office is located in the heart of the city, in a beautiful brick building that's a pleasure to work in.