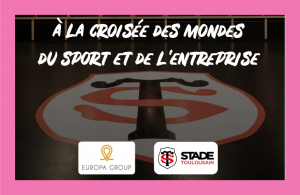 Europa Organisation
31 May 2023
An unprecedented meeting between the worlds of sport and business is in the offing!
EUROPA GROUP has the honour of organising the "Management & Performance" seminar, a new Stade Toulousain Rugby event, on 12 and 13 October 2023.
The idea? Draw on sports coaching techniques to better tackle the challenges and issues of management.
During these two days dedicated to company directors, executives and HR managers, prestigious speakers from Stade Toulousain Rugby and renowned guests will be taking part in ground-breaking conferences.
Alongside Didier Lacroix, Ugo Mola, Jérôme Cazalbou, Jerome Kaino, Emile Ntamack, Clément Poitrenaud, jean Bouilhou, Laurent THUERY and Virgile Lacombe will share with participants their 'sporting' approach to key issues for any organisation.
For Marc Doncieux, founder of EUROPA GROUP and member of the Stade Toulousain board of directors, "We are building these days hand in hand with the Stade Toulousain, to make it an event where experience sharing and concrete testimonies of real-life situations will be at the heart of the conferences. Being inspired by top-level sports leaders can only help business leaders to achieve their own goals.