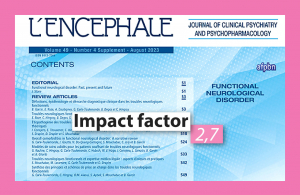 Europa Organisation
21 Jul 2023
Congratulations to Prof. Raphael Gaillard and Dr. Marc Masson, editors-in-chief, and to the entire editorial board on this success!
But what is impact factor?
It's a key indicator used to assess the reputation and influence of a scientific journal. It reflects the quality and relevance of the work published in the journal.
What about L'Encéphale?
L'Encéphale is the reference journal for the French-speaking psychiatry community. It plays an essential role in the sharing of scientific knowledge and the advancement of psychiatry.
L'Encéphale is also a Congress AND an omnichannel digital community!